In the past couple of years research on fragments has been more intense than ever. Projects, blogs, books, and conferences have been devoted to left-overs from manuscripts re-used by bookbinders as well as to manuscripts that were cut up and sold as single leaves by book dealers. To facilitate this research the scholarly network Fragmentarium (University of Fribourg, Switzerland) wants to provide an international and interdisciplinary research environment.
During the 2017 International Medieval Congress in Leeds the Austrian National Library therefore organised two sessions and a round table discussion on the topic of medieval manuscript fragments. All talks presented in these sessions by scholars from Austria, Germany, Switzerland, Norway and the US will be posted here in the next couple of weeks.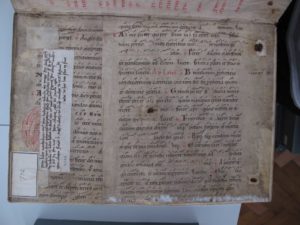 Session I – a summary of which was posted by Sébastien Barret in a report from Leeds on the Mittelalter Blog.
Too Many Books: Cataloguing Fragments in the Austrian National Library
Katharina Kaska, Sammlung von Handschriften und alten Drucken, Österreichische Nationalbibliothek, Wien
Norwegian Book Fragments and the Internet
Åslaug Ommundsen, Institutt for lingvistiske, litterære og estetiske studier, Universitetet i Bergen
Fragmentarium: Challenges in Digital Fragmentology
Veronika Drescher, Institut d'études médiévales, Université de Fribourg
Session II:
Fragmented Theology: Texts from 12th-Century Manuscript Fragments
Christoph Egger, Institut für Österreichische Geschichtsforschung, Universität Wien
Gibt es einen Erkenntnisgewinn durch (liturgische) Fragmente?: Das Beispiel der Handschriftenfragmente aus dem Historischen Staatsarchiv Königsberg in Berlin
Anette Löffler, Independent Scholar, Threna
Discoveries in the Details: Cataloguing in situ Manuscript Fragments in Incunabula
Ruth Mullett, Medieval Studies Program, Cornell University